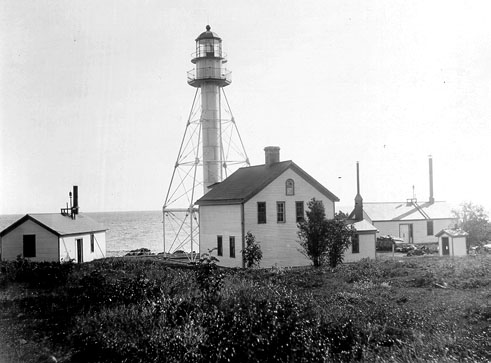 MANITOU ISLAND LIGHTHOUSE
State: MICHIGAN
Location: OFF KEEWANAU PENINSULA/LAKE SUPERIOR
Nearest City: COPPER HARBOR
County: KEWEENAW
U.S.C.G. District: 9
Year Station Established: 1850
Existing Historic Tower:
Year Light First Lit: 1861
Is the Light Operational? YES
Date Deactivated: N/A
Automated: 1978
Foundation Materials: DESTROYED BY EROSION
Construction Materials: IRON
Markings/Patterns: WHITE
Shape: SKELETAL W/CENTRAL COLUMN
Relationship to Other Structures: ATTACHED
Tower Height: 80
Original Optic: THIRD ORDER, FRESNEL
Year Original Lens Installed: 1861
Present Optic: 190 MM
Year Present Lens Installed:
Height of Focal Plane: 81
Fresnel Lens Disposition:
Has tower been moved? NO
Previous Tower(s):
1. Construction Date:
Description:
Fate/Disposition:
Modern Tower? NO
Existing Sound Signal Building? UNKNOWN
Year Constructed:
Construction Materials:
Architectural Style:
Fog Signal Type: WHISTLE
Existing Keepers Quarters?
Year Constructed: 1861
Number of Stories: 2
Architectural Style: RECTANGULAR FRAME
Construction Materials: WOOD
Other Structures: BOATHOUSE; SKELETAL TOWER ATTQACHED TO HOUSE VIA ENCLOSED PASSAGEWAY
Current Use: ACTIVE AID TO NAVIGATION
Owner/Manager: U.S. COAST GUARD LEASE TO NORTH WOODS CONSERVANCY
Open to the Public? NO
Non-NPS Web Site:
National Register Status: LISTED Reference #84001773
Name of Listing: MANITOU ISLAND LIGHT STATION (U.S. COAST GUARD/GREAT
LAKES TR) On State List/Inventory? NO; Year Listed:
Miscellaneous:
ALONG WITH WHITEFISH POINT IS OLDEST SKELETAL TOWER ON GREAT LAKES; PLAYED AN IMPORTANT ROLE IN GROWTH OF MICHIGAN COPPER INDUSTRY; USCG PLANS TO TRANSFER PROPERTY OUT OF USCG OWNERSHIP