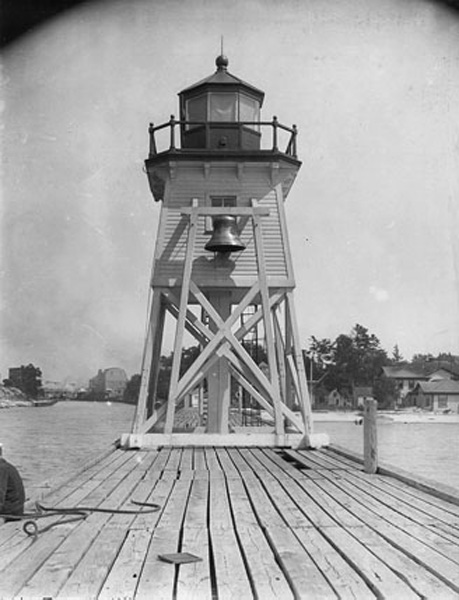 Charlevoix South Pierhead Lighthouse in with wooden tower and fog bell.
CHARLEVOIX SOUTH PIER LIGHT
State: MICHIGAN
Location: ON SOUTH PIERHEAD/LAKE MICHIGAN
Nearest City: CHARLEVOIX
County: CHARLEVOIX
U.S.C.G. District: 9
Year Station Established: 1914
Existing Historic Tower: Yes
Year Light First Lit: 1948
Is the Light Operational? Yes
Date Deactivated: n/a
Automated: Yes
Foundation Materials: Pier
Construction Materials: Steel
Markings/Patterns: White with black lantern
Shape: Square skeletal
Relationship to Other Structures: Separate
Tower Height: 41 feet
Original Optic: 5th Order Fresnel
Year Original Lens Installed: 1914
Present Optic: Plastic 300mm Lens
Year Present Lens Installed: N/A
Height of Focal Plane: N/A
Fresnel Lens Disposition: Unknown
Has tower been moved? No
Previous Tower(s): N/A
Modern Tower? NO
Existing Sound Signal Building? No
Existing Keepers Quarters?
Year Constructed:
Number of Stories:
Architectural Style:
Construction Materials:
Other Structures: None
Current Use: Active aid to navigation
Owner/Manager: City of Charlevoix/Charlevoix Historical Society, transferred in 2008 from USCG
Open to the Public? No
Non-NPS Web Site: Charlevoix Historical Society
National Register Status: NONE Reference # 0
Name of Listing: Charlevoix South Pierhead Light #05000346 On State List/Inventory? NO; Year Listed: 2005
Miscellaneous: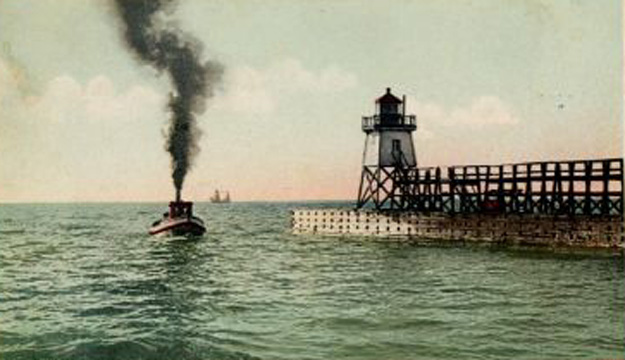 View with the catwalk extending back from the lighthouse.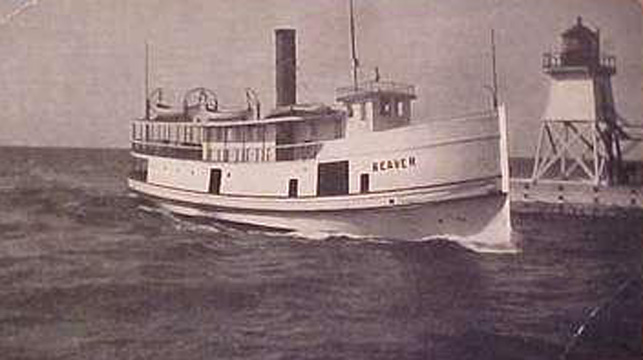 One of the early original Beaver Island ferry boats passing the lighthouse.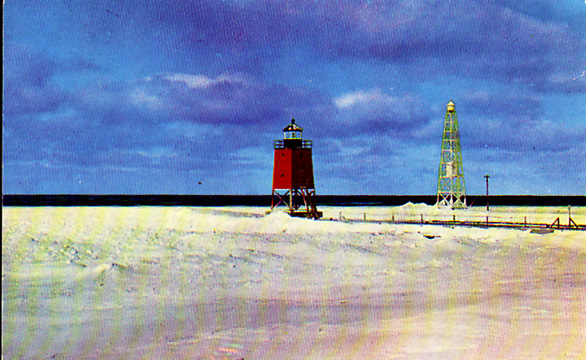 The tower on the south pier and painted red. Notice the north pierhead skeletal tower that is no longer there.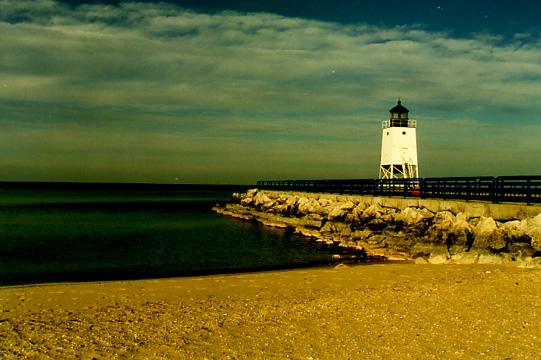 The lighthouse as it is today.
Another view.