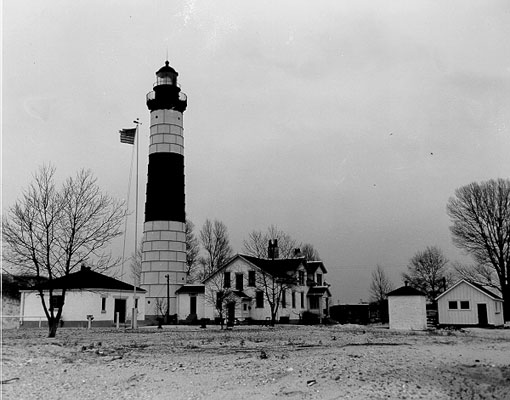 BIG SABLE POINT (GRAND POINT AU SABLE) LIGHT
State: MICHIGAN
Location: EAST SHORE OF LAKE MICHIGAN
Nearest City: LUDINGTON
County: MASON
U.S.C.G. District: 9
Year Station Established: 1867
Existing Historic Tower:
Year Light First Lit: 1867
Is the Light Operational? YES
Date Deactivated: N/A
Automated: 1968
Foundation Materials: WOOD PILINGS
Construction Materials: BRICK ENCASED IN IRON PLATE
Markings/Patterns: MIDDLE THIRD/TOP BLACK, REMAINDER WHITE
Shape: CONICAL
Relationship to Other Structures: ATTACHED
Tower Height: 112
Original Optic: THIRD ORDER, FRESNEL
Year Original Lens Installed: 1867
Present Optic: 300 MM
Year Present Lens Installed:
Height of Focal Plane: 106
Fresnel Lens Disposition: FRESNEL LENS TRANSFERRED TO ROSE HAWLEY MUSEUM IN LUDINGTON
Has tower been moved? NO
Previous Tower(s): N/A
Modern Tower? NO
Existing Sound Signal Building? NO (LOST TO EROSION 1941)
Year Constructed: 1897
Construction Materials:
Architectural Style:
Fog Signal Type: ORIG. STEAM/LATER DIESEL
Existing Keepers Quarters? YES (MODIFIED 1909 & 1948)
Year Constructed: 1867
Number of Stories: 2
Architectural Style: ATTACHED TO TOWER
Construction Materials: BRICK
Other Structures: NONE/ORIG. OIL HOUSE, 2 GARAGES
Current Use: ACTIVE AID TO NAVIGATION
Owner/Manager: U.S. COAST GUARD LEASE TO BIG SABLE POINT LIGHTHOUSE KEEPERS ASSOCIATION
Open to the Public? YES (Goto Publicly Accessible Lighthouses for access information)
Web Site: LINK
National Register Status: LISTED Reference #83004296
Name of Listing: BIG SABLE POINT LIGHT STATION (U.S. COAST GUARD/GREAT
LAKES TR) On State List/Inventory? YES; Year Listed: 1988
Miscellaneous:
TOWER ENCASED IN IRON PLATE IN 1900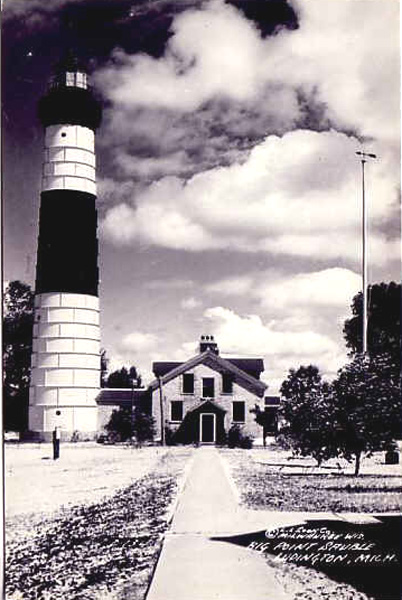 Photo from an old postcard.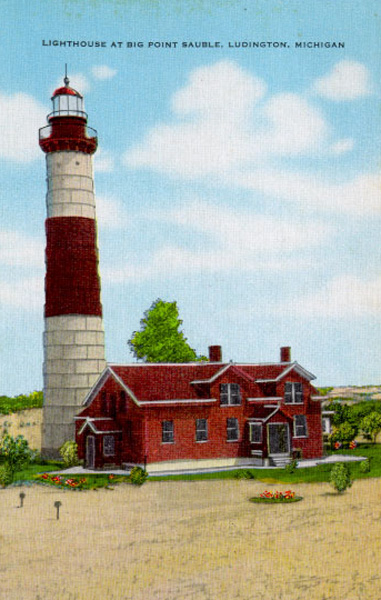 An old postcard view of the station prior to some modifications and un-painted.