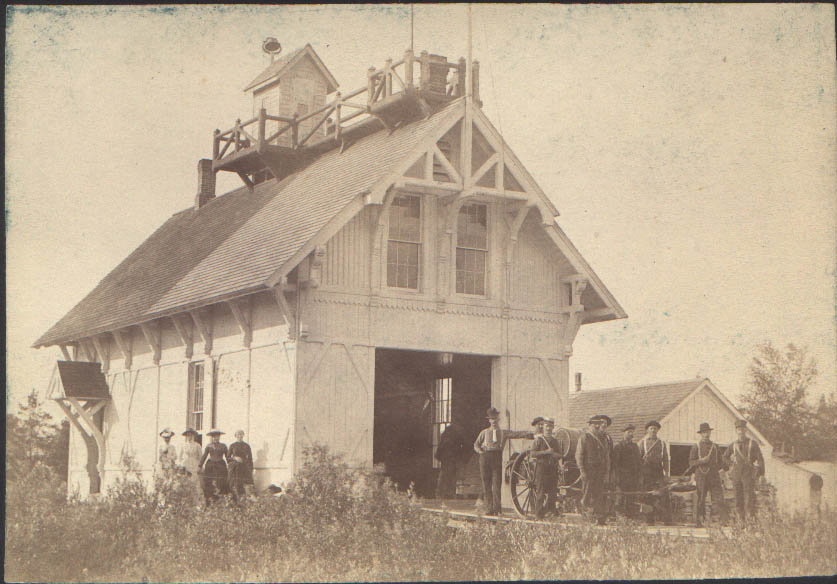 Original photograph from a studio in Oscoda, MI. of the Tawas Life Saving Station after construction. Note there is no sign over the boat house doors and the square lookout tower on top compared to the rounded one in later photographs. No dormers or front catwalk are present in this photo either.
Station Ottawa Point [East Tawas], Michigan Coast Guard Station #250
| | |
| --- | --- |
| Location: | Near light, Lake Huron |
| Date of Conveyance | 1875 |
| Station Built: | 1876 |
| Fate: | Still in operation; now designated East Tawas, original station abandoned and new one new one built on the west side of the point |
| Station Type: | 1875 Type |
Please see Station Tawas Notice posted here.
Keepers:
George Haskin was appointed keeper on 26 SEP 1876 and left in 1880 (?)
George W. Plough was appointed keeper on 16 AUG 1880 and resigned on 25 JUN 1886.
George S. Cleary was appointed keeper on 25 JUN 1886 and left 7 DEC 1888 "dispensed with services."
Frank J. Ocha was appointed keeper on 23 NOV 1888 and disappeared on 12 OCT 1896.
Robert M. Small was appointed keeper on 6 NOV 1896 and left in 1914.
James A. Carpenter was appointed keeper in 1915.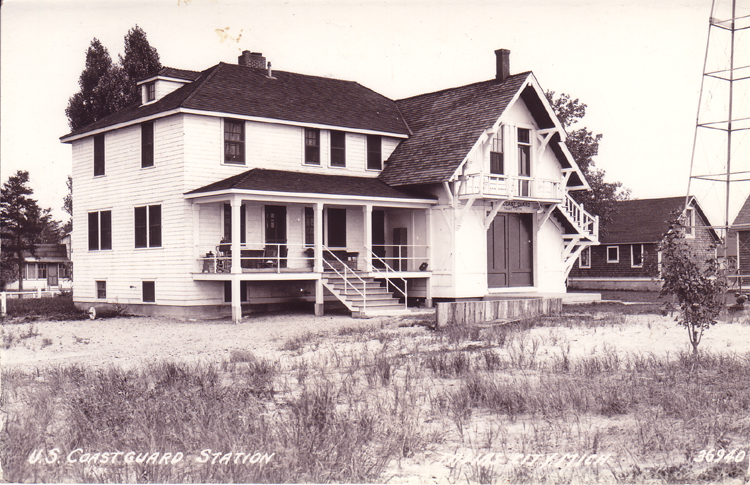 This is a circa 1945 station photo. All of the original station trim is still present as well as the boat house doors. Also note on the original building the chimney is still in place.
Here is one of the later rescue boats used after the power surfboats were replaced. This is a 36 foot motor life boat. It was a workhorse for the Coast Guard and could take on heavy seas.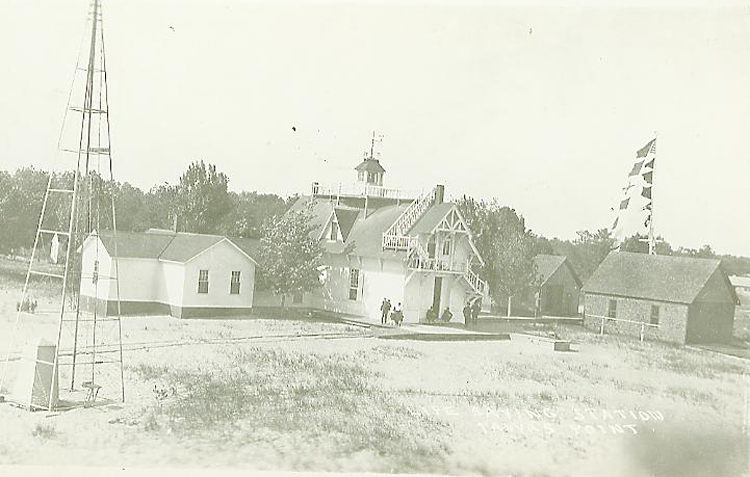 Yet another undated photo. This one is very early after the first addition was put on the original structure, but after the new roof mounted lookout was enclosed.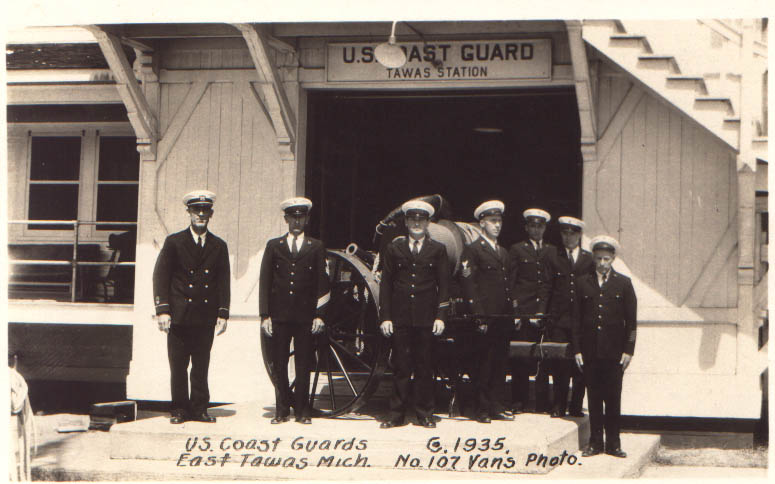 The crew in 1935 pictured in front of the boathouse with beach apparatus cart in the background.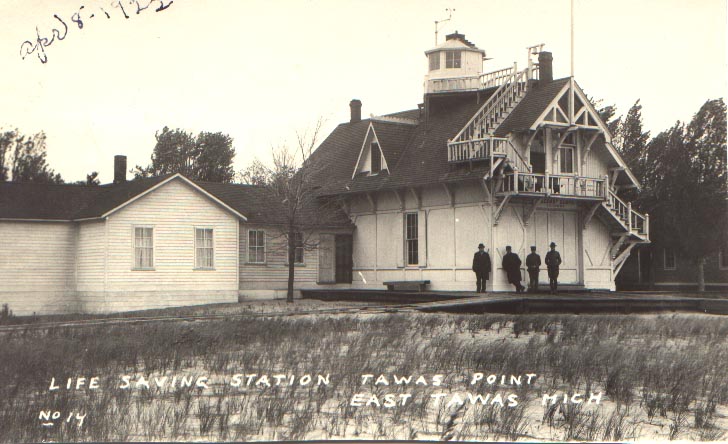 The station as it appeared on April 8th, 1922. Note the rounded lookout tower on top and the numerous additions added over the years from the original photograph on the top left.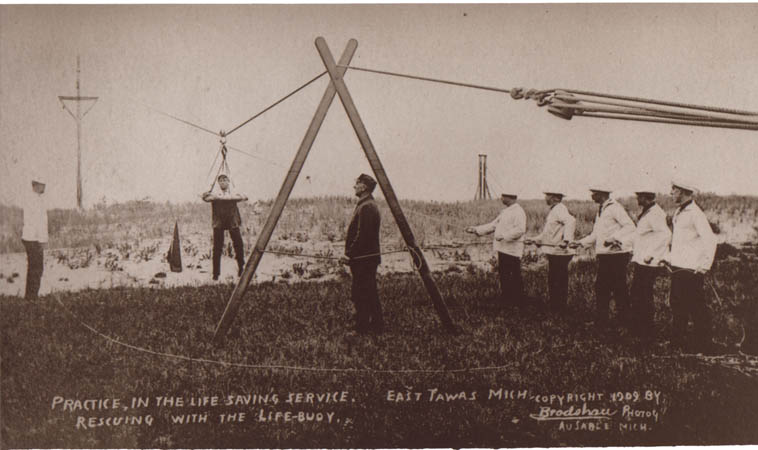 The breaches buoy drill practice.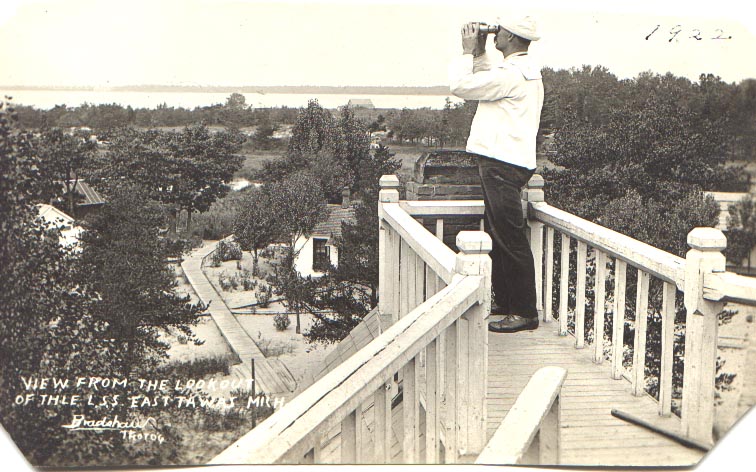 A 1922 view of a surfman performing lookout duty on top of the station's catwalk.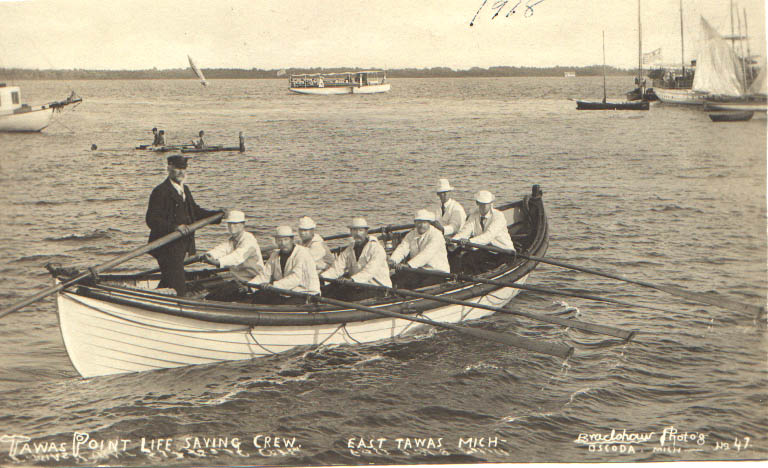 The 1918 crew in the life boat.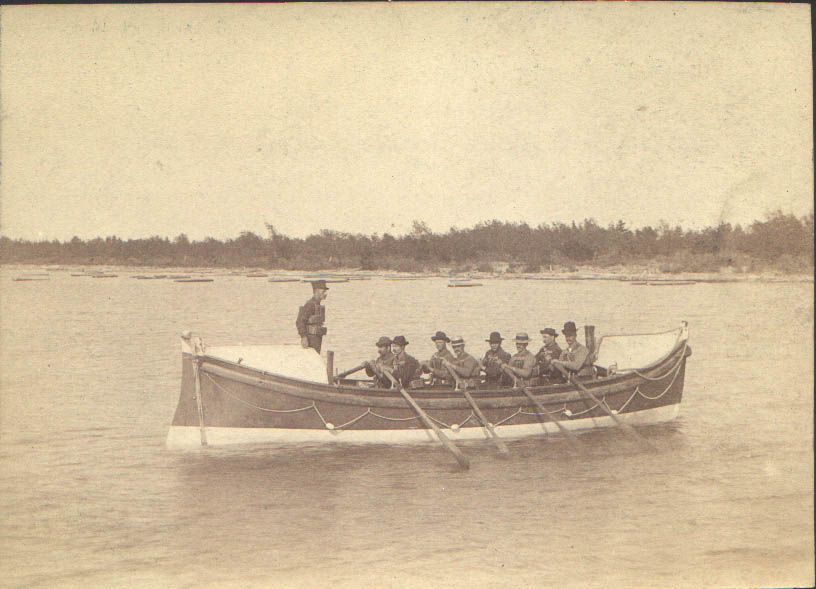 An early cabinet card photograph from a studio in Oscoda, MI. showing the Tawas life saving crew in their life boat.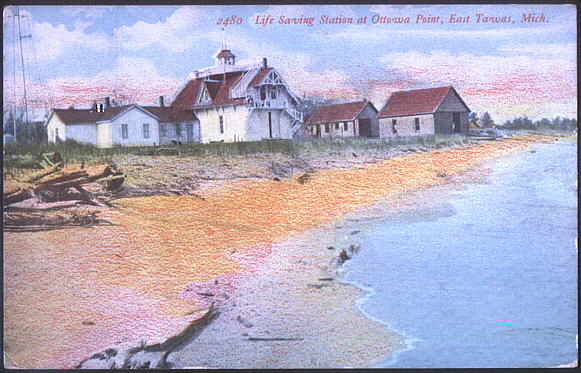 An early colored postcard showing the Tawas life saving station.