2010
Plans are in process to start the National Register of Historic Places nomination for the lifeboat. Fundraising efforts for this restoration are needed as soon as possible to build up enough cash to start the project and apply for a grant. Currently the boat is shrink wrapped and is stabilized, but restoration needs to start soon.
We are asking for donations for this project right now to start saving up what we need. Please donate now.
Please mark your check or envelope to say "1909 LIFEBOAT".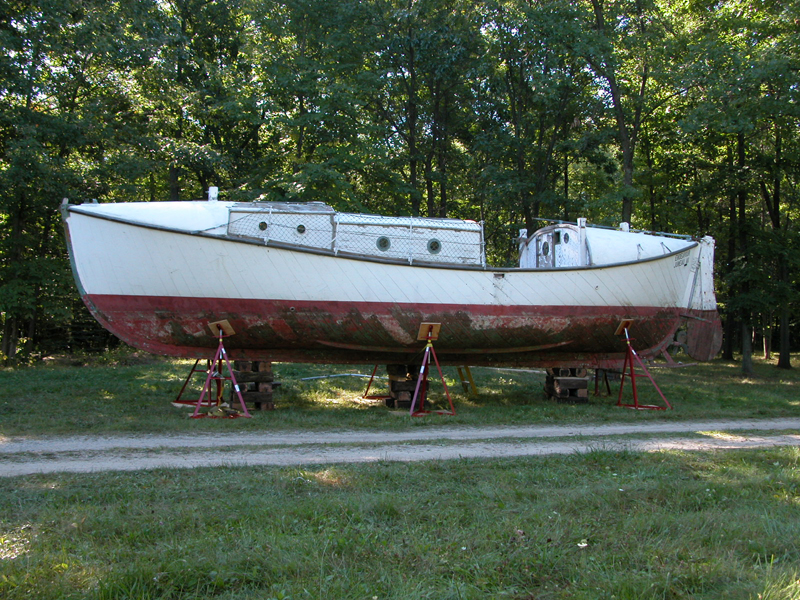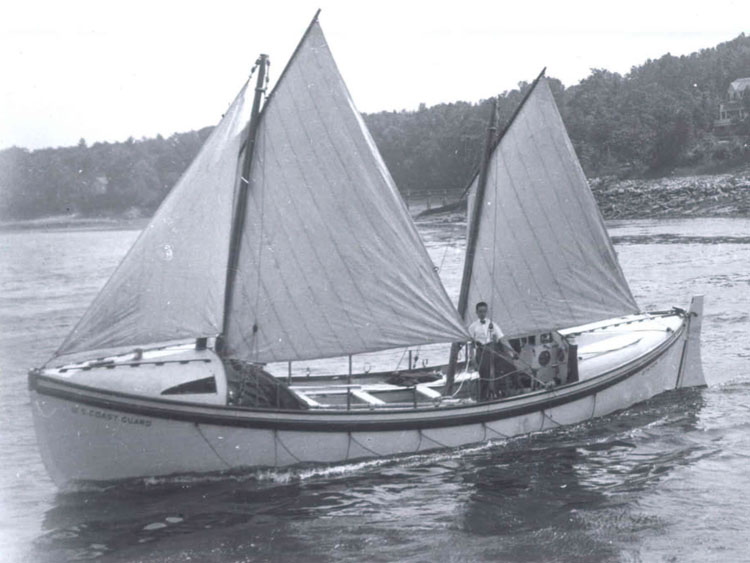 Current state What is will look like historical view
Preliminary planning has been done for the restoration costs associated with bringing the lifeboat back to an original condition. The lifeboat is now a little over 100 years old. The preliminary planning process revealed we needed a lot of metal machining and castings work to be done that has increased the costs significantly from the original restoration estimate. A lot of the metal parts are there except the major through hull fittings for the self bailing system and copper boxes used for the water ballast system. In order to start the restoration process, we need the metal pieces first as they are installed in the bottom of the boat making doing them later impractical. These findings caused us to hold off to raise the appropriate funds. We estimate the restoration process to cost between $75,000 and $100,000 depending on the in-kinds gifts we might be able to receive as well as volunteer labor. This cost may fluctuate once the restoration process stars and we determine what must be done after you dig into things so to speak.
Considerable work has been done in researching the historical aspects of the Dreadnaught life boat. Through much help from a few historians and ourselves we were able to put together a thick information binder about the boats history, which was presented to the State of Michigan Historic Preservation Office. This binder was to answer the preliminary historic questionnaire about getting the boat listed on the National Register. We have been in contact with some preservation college students who we hope will complete the National Register Nomination as a student project.
September 3rd, 2005 and below are the archive of information on how we obtained the boat and the process to that point.
The long process of saving this boat has reached its next stage with the safe arrival of the boat in Michigan on Saturday September 3rd, 2005. The boat had to be shipped by barge and then by truck over land to Michigan. It is now sitting on some vacant land for temporary storage in Fenton, MI. Now the real work begins, raising money to restore the boat, getting quotes from qualified boat restoration companies and finishing up the paperwork. Research is still ongoing as to the full history of this boat so stay tuned for more information as we learn it. This boat is rare indeed and is very famous for the rescue it performed. Please click on the following link to see some pictures of this boat when it was in service and read about the Rosecrans rescue this boat was involved in. Below please find some photos of the boat arriving in Michigan and the unloading.
Michigan Lighthouse Conservancy would like to thank Alaska Marine Lines for help in the barge transportation costs, Dudley Boat Hauling and Murphy Yacht Hauling for getting the boat safely to Michigan. We received some discounts along the way on the costs and the total cost of shipping was reduced to $6,100.00. We still need to replace this amount in our funds because it was an emergency expenditure to save the boat. Last, but not least, we would like to thank Fritz Funk, who donated the boat to us.
Stay tuned for more information as time goes on.....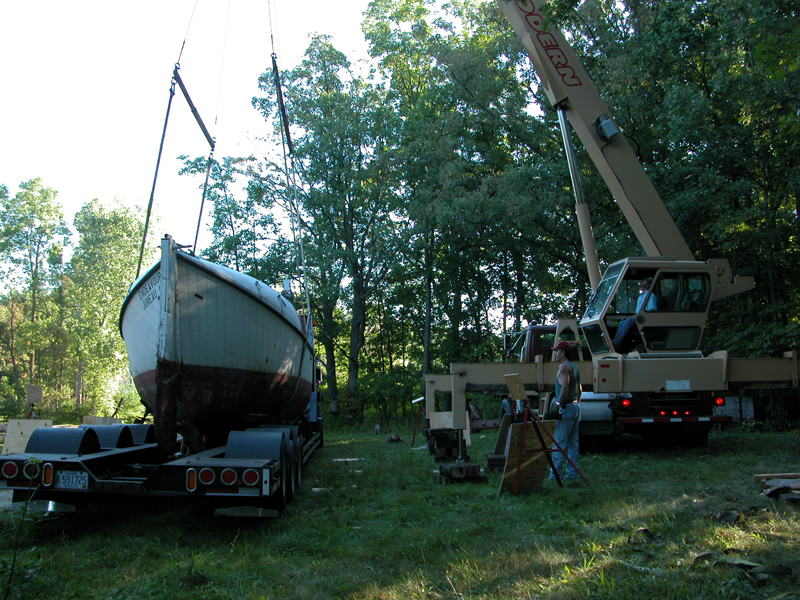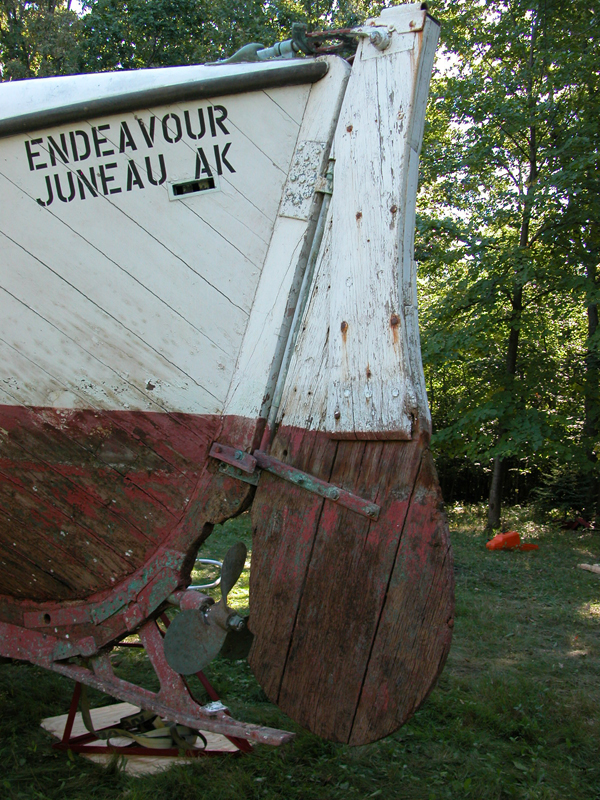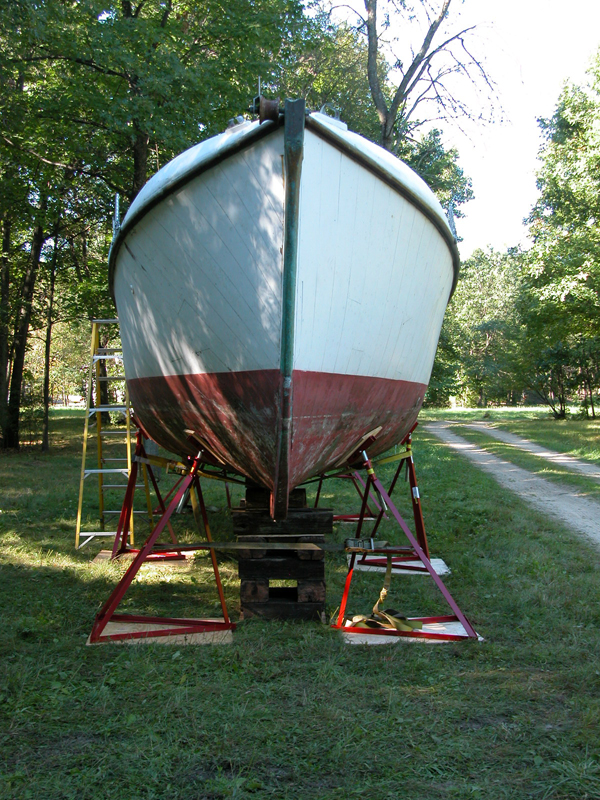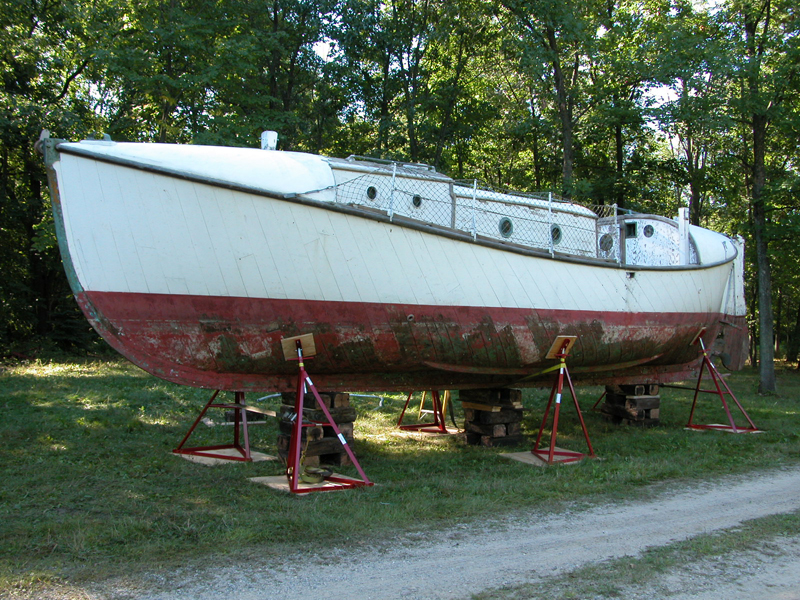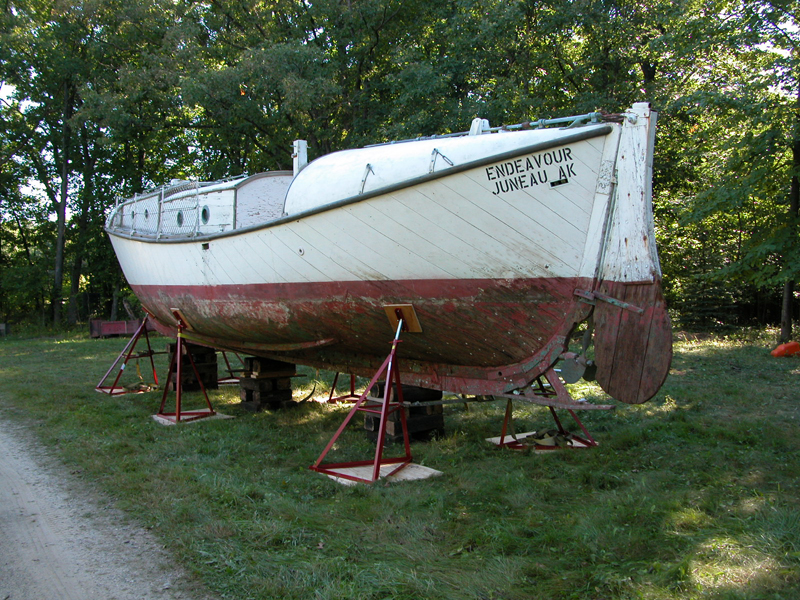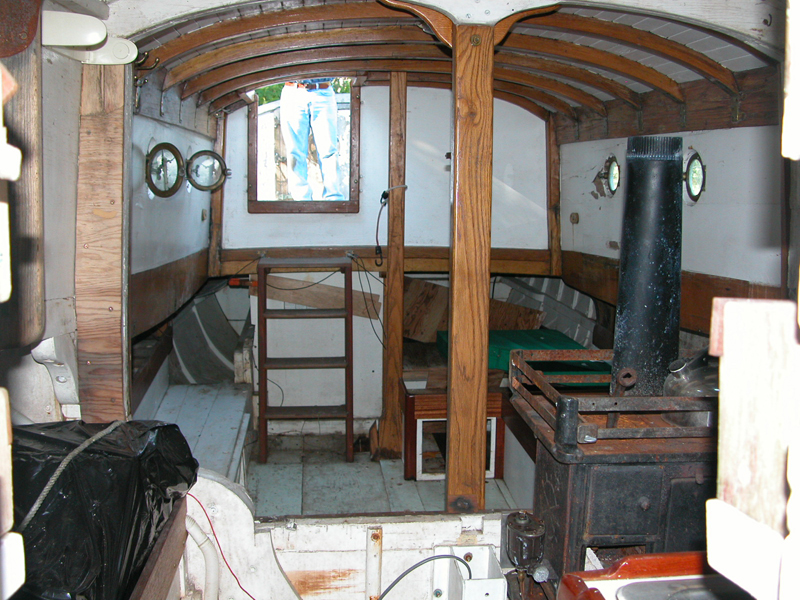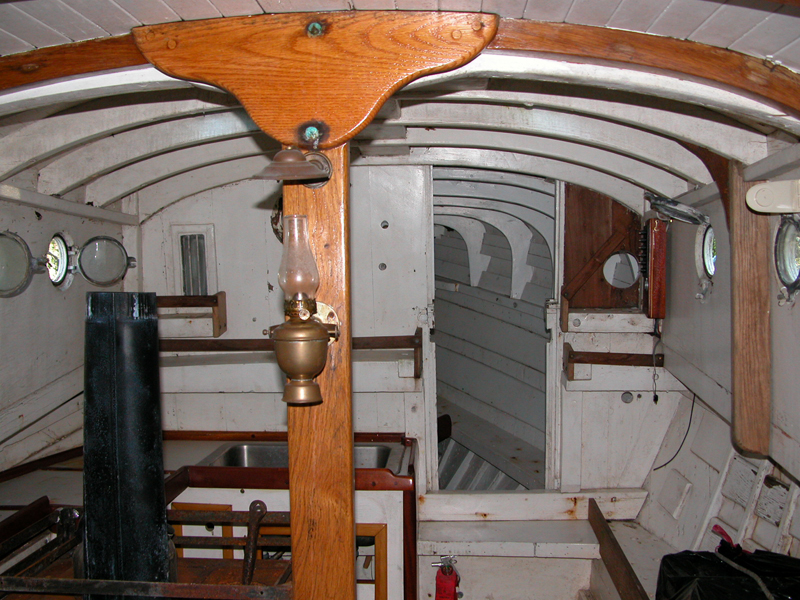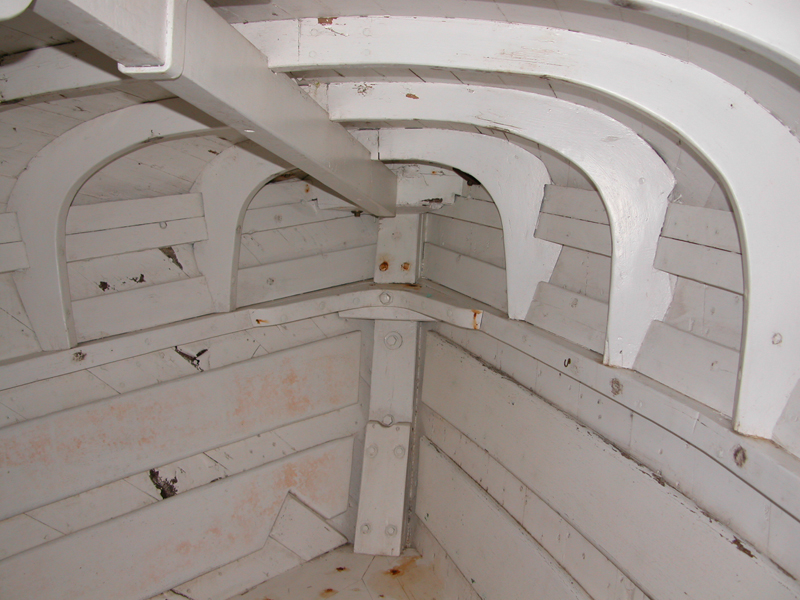 July 30th, 2005
The Michigan Lighthouse Conservancy recently received a generous donation, one of a kind almost. It is a former US Life Saving Service 1909 Motor Life Boat. This boat is located in Juneau Alaska as of July 30th, 2005. We are working on transporting this boat to its new home in Michigan to begin its next phase of life. We are searching for donations to cover the cost of transporting the boat back here. It will be loaded on a barge to transport it over sea to Seattle Washington where it will be loaded on a truck for over the road transport across country to Michigan. It will take $8,763.00 to make this happen. If you would like to help please send in your donations marked "Life Boat".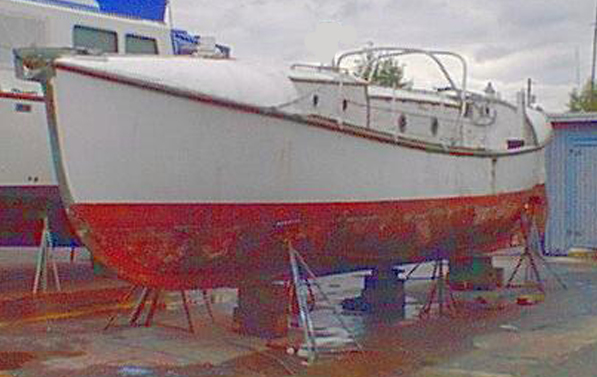 History of the life boat:
The US Life Saving Service needing a better way to help get their boats to rescues quicker without tiring out the oarsmen started experimenting with motors. Back in the late 1800's these motors were unreliable. Captain Cleary, Keeper of the Marquette Michigan station modified one of his surf boats and started using it with success. This lead to other boats being outfitted with motors after his success which spread out to the rest of the service.
Two basic types of boats were used at stations around the country and Great Lakes, surfboats and lifeboats. These boats had many differences powered or not. Surfboats were lighter in weight and could be carried over the beach to the wreck and then launched from the beach at the wreck site saving time and effort rowing from the station to the scene. They were originally oar powered and then later powered with engines. Lifeboats were much heavier than surfboats. They were longer and had a heavy keel and airtight compartments on each end of the boat sometimes referred to as "turtles". Both of these features helped the boat self-right itself should it roll over in the surf or waves. Helping to keep it afloat in those situations was also two main water tight compartments that created bouyancy for the boat when it rolled. These types of boats were almost always launched from a marine railway system down a ramp and into the water and put directly in service. Since these boats were much heavier, transporting them over land was much more difficult and was rarely done except in the utmost dire circumstances. The Great Lakes and Michigan had many lifeboat stations.
History of this boat:
The boats current name which you will see on the side of it in the pictures is ENDEAVOUR. She started her career as a self-righting, self-bailing motorized life boat stationed at Point Adams, Oregon watching over the Columbia River Bar. Most notibly one of the most dangerous stretches of ocean in the country. It was built by the Electric Boat Company in Bayonne, New Jersey and was one of 50 made and shipped across the country by rail for service on the coasts and Great Lakes. This was one of the first lifeboats designed with an engine for use in the Life Saving Service. Although this engine was also not as reliable as today's engines are, oars and sails were used for alternate means of powering the boat. The boat was steered by the keeper manning a two handled crank that turned a steering gear.
Endeavour came in service of the US Coast Guard in 1915 when the Revenue Cutter Service and the Life Saving Service merged. She stayed in service until 1928 and was purchased at surplus by Captain Oliver P. Rankin of Astoria, a retied Columbia River Bar pilot. Most of the time these boats were destroyed in service or were burned at the end of their useful life. We were lucky that this did not happen here. Captain Rankin had her converted into a ketch. In 1938 Rankin turned Endeavour over to his old friend Amos Burg, a writer, filmaker, and explorer, who had first gone to sea with Captain Rankin as his cabin boy aboard a steamer Rose City in 1917. Burg used Endevour as an exploration platform and for his home for many years. An article in the June 1947 issue of National Geographic "Endeavour Sails the Inside Passage" describes one of Amos Burg's many adventures in the boat.
The boat was surplused due to advancements in design and its age. In the 1930's and 1940's a number of newer 36 foot motor life boats were designed, with many enhancements over the 1909 models. Many of these boats still survive today and are on static display around the country. See Don Nelson's web site for more information on these 36 foot motor life boats. These boats are beamier, carved plank instead of double diagonal as in Endeavour. There is only one other lifeboat in the country that we have heard of the 1909 version. This was located in Everett, Washington and is called the "Sea Witch". If anyone knows of her whereabouts, please let us know.
In 1982 Fritz Funk purchased the boat from Amos Burg and undertook a major refurbishment of the lifeboat which was completed the following year. Fritz has said the restoration was a major undertaking and that over 35% of the outer layer of planking and about 15% of the inner planking were all replaced with Honduras Mahogany, the original material specified.
Now in July of 2005 with the lifeboat being donated to the Michigan Lighthouse Conservancy we will work on preserving her for generations to come. We are therefore looking for donations and suppliers to help restore this boat. We will be researching grant applications and sources of revenue to put the boat back into as much of the original specifications as possible. With your help we can make this happen. The president of the conservancy visited Norway in 2004 and one place he visited was the Viking Ship Museum in Oslo. Seeing a wooden boat that old preserved for many generations to come to learn of their past was fascinating. It is a fine example of what can be done with proper preservation.
Below are some photos taken in Alaska in July of 2005 while preparations were being made to ship her to Michigan.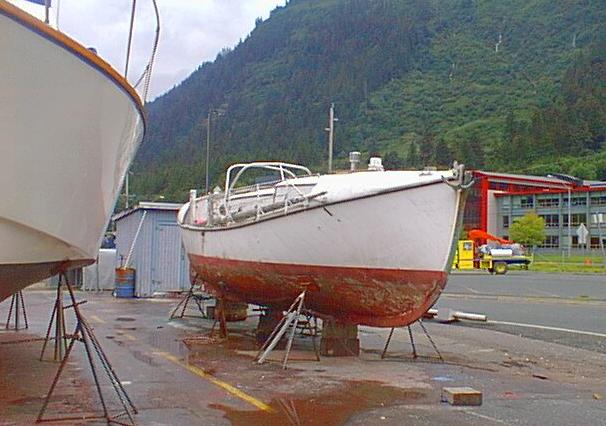 This is the starboard side from the bow.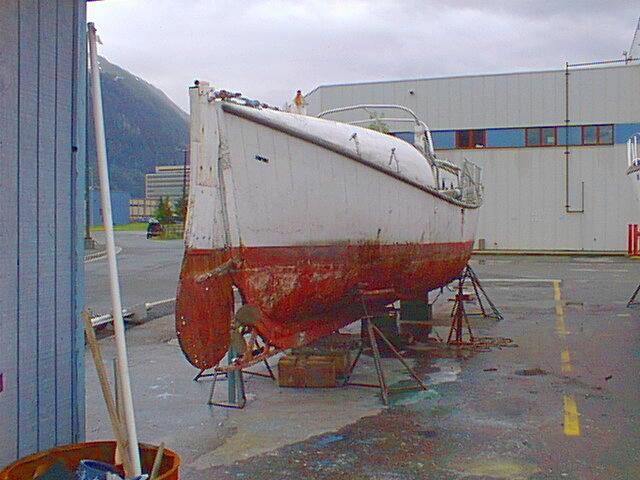 This is the starboard side from the aft.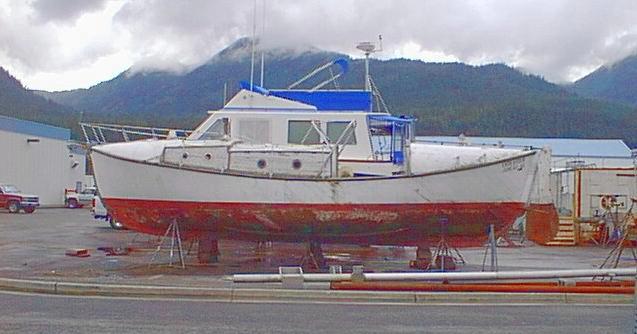 This is a view of the port side. It is a little confusing with the other boat in the background.
August 8th, 2005 Update:
Preparations have started today to get a cradle made for transporting the boat as well as the paperwork required for the shipping arrangements. The boat will be on its way to Michigan in the next week depending on the barge schedule which will take it from Alaska to Seattle. A survey was done on the hull last week and it received a clean bill of health for transportation and we are now underway.